Home
»
Archives for January 2012
Leonidas Pacunda holds up the shirt of his son Isbac Pacunda, who was diagnosed with "Fetus in fetu" at Las Mercedes hospital in Chiclayo, Peru, Saturday Jan. 28, 2012. Isbac, 3, was diagnosed with having tissues from the fetus of his twin brother in his abdomen, called "Fetus in fetu," and will be operated on Monday, according to doctors. Fetus in fetu occurs once in every 500,000 live births, according pediatric surgeon Carlos Astocondor, who will lead the surgery with 12 other physicians. (AP Photo/Karel Navarro)
(AP2012)
A partially formed fetus is stuck within a 3-year-old boy.
Doctors in
Peru
have found a "parasitic twin" in the stomach of a 3-year-old boy, and plan to surgically remove the tissue Monday.
Dr. Carlos Astocondor of the medical team at Las Mercedes Hospital in the northern port of Chiclayo says the condition occurs in about one of every 500,000 live births.
He says the partially formed fetus weighs a pound and a half (700 grams) and is nine inches (25 centimeters) long.
Astocondor says the brain, heart, lungs and intestines never developed after the fetus was absorbed by the other fetus inside the mother's womb. He says it has some hair on the cranium, eyes and some bones.

Read more: http://zpag.es/9idn
The first
iPhone
was actually dreamed up in 1983. Forget that silly old touchscreen, this iPhone was a landline with full, all-white handset and a built-in screen controlled with a stylus.
The phone was designed for Apple by Hartmut Esslinger, an influential designer who helped make the Apple IIc computer (Apple's first "portable" computer) and later founded Frogdesign. The 1983 iPhone certainly fits in with Esslinger's other designs for Apple. It also foreshadows the touchscreens of both the
iPhone
and
iPad
.
Images of the 1983 iPhone have been circling the web
for a while
but there has been renewed interest in Apple's early designs and history thanks to a peek inside
Stanford University's massive trove of Apple documents
. The archives are a close-guarded secret but Stanford is starting to grant access to select journalists and organizations. The archives were donated in 1997 after Steve Jobs rejoined the company and document much of the design and personnel changes that took place in the 1980s.
SEE ALSO: Apple's Museum That Never Was: Why Does Stanford Keep it Secret? [VIDEO]
The 1983 iPhone is just one of many prototypes buried in Apple's past. There's even a device that looks eerily
similar to an iPad
. Despite the phone's age, it actually looks like a cool concept that could easily be updated into a modern consumer product by replacing simple stylus screen with an iPad-like interface.
Mashable has reached out to Stanford to get a private look into the material. Stay tuned for more, but in the mean time, take a look at some pics of the iPhone that never was.
Where does the world's largest collection of
Apple
-related history live? In a fascinating archive owned and operated by
Stanford University
.
But good luck actually finding the trove of hardware, software, recorded interviews, revealing documents, candid photos and internal videos. Everything is stored in a secret Bay Area location away from the Stanford campus.
Unceremoniously housed in boxes that occupy some 600 feet of shelving in a climate-controlled warehouse, the archive contains gems such as handwritten early sales records of the Apple II, a $5,000 loan agreement that helped the fledgling company get off the ground, and a 1976 letter in which a printer warns a friend about a young "joker"
named Steve Jobs
.
Mashable has reached out to Stanford for more information on why this bonanza of Apple-geek gold hasn't been made more available for viewing by the general public, but so far has not heard back from university representatives.
The storage warehouse's undisclosed location is understandable, as it's easy to imagine obsessed fans trying to break in for peeks — or pieces — of their own. But the lack of more public viewing seems unusual. As a private university with an endowment of more than $16 billion, dearth of funding isn't a plausible reason.
The Associated Press was recently granted a
rare visit
to the secret space — but only after agreeing not to divulge its location. Given the swell of public interest in Apple's story since Jobs' death in October, could a public museum now be in the works?
The bulk of the collection was originally intended for an Apple corporate museum that never got built. Apple
donated the materials
to Stanford in 1997, soon after Jobs rejoined the company. The university has since acquired more than 20 additional collections from former Apple employees, executives and business partners to complement the company's original donation.
The Stanford archive also includes documentation of Apple's 1985 removal of Jobs as CEO, as well as his subsequent return to the position, which would spark
the company's transformation
from a struggling corporation into an international business behemoth.
But the Stanford collection doesn't just tell the story of one company. The rise of Apple with Jobs at the helm parallels the modern maturation of the technology industry all the way through its ubiquity today.
"Apple Computer is an iconic company in Silicon Valley," Stanford
curator Henry Lowood
recently told a university publication. "And by iconic I mean that it's more than just historically important. It symbolizes a lot of things that we've come to associate with Silicon Valley."
Located in Palo Alto, in the heart of Silicon Valley, Stanford has had a long relationship with Apple and its famous co-founder. In
a 1985 interview
with
Playboy
magazine, Jobs praised the availability of "fresh made" LSD on the campus during his youth, and in 2005 he gave a
now-famous inspirational commencement speech
to Stanford's graduating class.
A rare natural phenomenon turns one of Austria's most beautiful hiking trails into a 10 meter-deep lake, for half the year.
Located at the foot of the Hochschwab Mountains, in Tragoess, Styria, Green Lake is one of the most bizarre natural phenomena in the world. During the cold winter months, this place is almost completely dry, and used as a country park where hikers love to come and spend some time away from urban chaos. But as soon as temperatures rise, the snow and ice covering the mountaintops begin to melt, and the water pours down, filling the basin below with crystal-clear water.
Water levels go from one-two meters at most, to over 10 meters, in the early summer. The waters of Green Lake are highest in June, when this extraordinary place is invaded by divers, curious to see what a mountain park looks like underwater. Fish swimming over wooden benches, a grass-covered bottom, trees, roads, roads and even bridges create a surreal setting that feels like it belongs on dry ground. That's because for half of the year, that's exactly where it's at.
Take a look at the amazing images of the Green Lake, shot during the winter season:
It comes as a surprise to many that male house mice produce melodious songs to attract mates. Unfortunately for us, because the melodies are in the ultra-sonic range human ears cannot detect them. Through spectrographic analyses of the vocalizations of wild house mice, researchers at the University of Veterinary Medicine, Vienna have found that the songs of male mice contain signals of individuality and kinship. Their results appear in the journal Physiology & Behavior and in the Journal of Ethology.
House Mouse
Credit: Wikipedia
It has been known for some time that house mice (Mus musculus) produce ultrasonic vocalizations (USVs) during courtship but it has generally been assumed that these are no more than squeaks. However, recent spectrographic analyses have revealed that USVs are complex and show features of song. Although the vocalizations are inaudible to human ears, when playbacks of recorded songs are slowed down their similarity to bird song becomes striking.
Frauke Hoffmann, Kerstin Musolf and Dustin Penn of the University of Veterinary Medicine, Vienna's Konrad Lorenz Institute of Ethology aimed to learn what type of information is contained in males' songs for the discerning ear of the female mouse to detect. Their initial studies, the first to study song in wild mice, confirmed that males emit songs when they encounter a females' scent and that females are attracted to males' songs. Additionally, the scientists discovered that females are able to distinguish siblings from unrelated males by their songs – even though they had previously never heard their brothers sing.

In their recent studies, Penn's group recorded and analysed the courtship calls of wild-caught male house mice for the first time, using digital audio software to examine parameters such as duration, pitch and frequency. They found that males' songs contain "signatures" or "fingerprints" that differ from one individual to another. Moreover, they confirmed that the songs of siblings are very similar to one another compared to the songs of unrelated males, which helps explains how females can distinguish unrelated males. This finding could potentially lead us to understand how female mice avoid inbreeding.

Interestingly, in some species of birds the males with the most complex songs appear to be most successful at attracting females. Further studies are needed to determine whether the complexity of male mouse vocalizations has an effect on females that is similar to that of "sexy syllables" in birds.

The vocalizations of wild house mice differ significantly from those of inbred strains of laboratory mice. Wild male mice produce more syllables within high frequency ranges than laboratory mice, a result that is consistent with other studies that find genetic effects on mouse song. "It seems as though house mice might provide a new model organism for the study of song in animals," says Dustin Penn. "Who would have thought that?"


Contacts and sources:
Dr. Dustin J. Penn
Klaus Wassermann
Veterinärmedizinische Universität Wien
The article "Spectrographic analyses reveal signals of individuality and kinship in the ultrasonic courtship vocalizations of wild house mice" by Frauke Hoffmann, Kerstin Musolf and Dustin J. Penn is published in the journal "Physiology & Behavior" (Volume 105, Issue 3, pp. 766-771).
The article "Ultrasonic courtship vocalizations in wild house mice: spectrographic analyses" by Frauke Hoffmann, Kerstin Musolf and Dustin J. Penn is published in the "Journal of Ethology" (Volume 30, Number 1, pp. 173-180).
Japan used seawater to cool nuclear fuel at the stricken Fukushima-Daiichi nuclear plant after the tsunami in March 2011 -- and that was probably the best action to take at the time, says Professor Alexandra Navrotsky of the University of California, Davis.
ant
Fukushima-Daiichi nuclear plant, 1975
Credit: Wikipedia
But Navrotsky and others have since discovered a new way in which seawater can corrode nuclear fuel, forming uranium compounds that could potentially travel long distances, either in solution or as very small particles. The research team published its work Jan. 23 in the journal Proceedings of the National Academy of Sciences.
"This is a phenomenon that has not been considered before," said Alexandra Navrotsky, distinguished professor of ceramic, earth and environmental materials chemistry. "We don't know how much this will increase the rate of corrosion, but it is something that will have to be considered in future."
Japan used seawater to avoid a much more serious accident at the Fukushima-Daiichi plant, and Navrotsky said, to her knowledge, there is no evidence of long-distance uranium contamination from the plant.
Uranium in nuclear fuel rods is in a chemical form that is "pretty insoluble" in water, Navrotsky said, unless the uranium is oxidized to uranium-VI — a process that can be facilitated when radiation converts water into peroxide, a powerful oxidizing agent.
Peter Burns, professor of civil engineering and geological sciences at the University of Notre Dame and a co-author of the new paper, had previously made spherical uranium peroxide clusters, rather like carbon "buckyballs," that can dissolve or exist as solids.
In the new paper, the researchers show that in the presence of alkali metal ions such as sodium — for example, in seawater — these clusters are stable enough to persist in solution or as small particles even when the oxidizing agent is removed.
In other words, these clusters could form on the surface of a fuel rod exposed to seawater and then be transported away, surviving in the environment for months or years before reverting to more common forms of uranium, without peroxide, and settling to the bottom of the ocean. There is no data yet on how fast these uranium peroxide clusters will break down in the environment, Navrotsky said.
Navrotsky and Burns worked with the following co-authors: postdoctoral researcher Christopher Armstrong and project scientist Tatiana Shvareva, UC Davis; May Nyman, Sandia National Laboratory, Albuquerque, N.M.; and Ginger Sigmon, University of Notre Dame. The U.S. Department of Energy supported the project.
Contacts and sources:
Andy Fell
University of California - Davis
Researchers at Michigan State University (MSU) have demonstrated how a new virus evolves, shedding light on how easy it can be for diseases to gain dangerous mutations. The findings appear in the current issue of the journal Science.
Ribbon diagram of the OmpF protein, Lambda's new pathway into E. coli.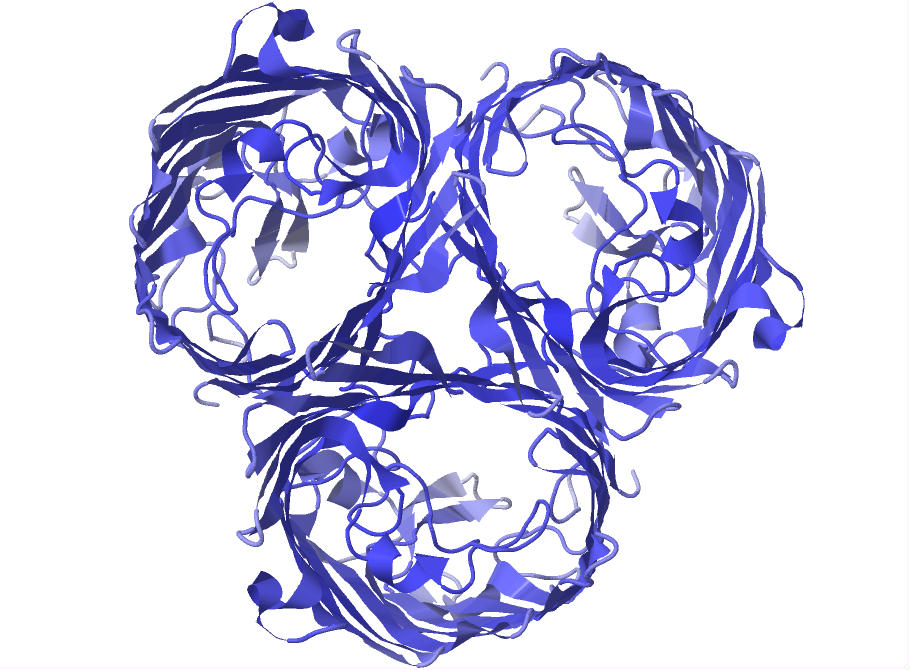 Illustration courtesy of MSU.
The scientists showed for the first time how the virus called "Lambda" evolved to find a new way to attack host cells, an innovation that took four mutations to accomplish. This virus infects bacteria, in particular the common E. coli bacterium. Lambda isn't dangerous to humans, but this research demonstrated how viruses evolve complex and potentially deadly new traits, noted Justin Meyer, MSU graduate student, who co-authored the paper with Richard Lenski, MSU Hannah Distinguished Professor of Microbiology and Molecular Genetics.
Researchers at Michigan State University demonstrate how a new virus evolves, shedding light on how easy it can be for diseases to gain dangerous mutations.
Credit: Michigan State University/Jeremy Polk, National Science Foundation
"We were surprised at first to see Lambda evolve this new function, this ability to attack and enter the cell through a new receptor--and it happened so fast," Meyer said. "But when we re-ran the evolution experiment, we saw the same thing happen over and over."
This paper follows recent news that scientists in the United States and the Netherlands produced a deadly version of bird flu. Even though bird flu is a mere five mutations away from becoming transmissible between humans, it's highly unlikely the virus could naturally obtain all of the beneficial mutations at once. However, it might evolve sequentially, gaining benefits one-by-one, if conditions are favorable at each step, Meyer added.
Through research conducted at BEACON, MSU's National Science Foundation Center for the Study of Evolution in Action, Meyer and his colleagues' ability to duplicate the results implied that adaptation by natural selection, or survival of the fittest, had an important role in the virus' evolution.
Contacts and sources:
National Science Foundation
Layne Cameron
, University Relations,
Michigan State University
Principal Investigators
Justin Meyer
, BEACON Office,
Michigan State University
BEACON:
http://beacon-center.org/
The geomagnetic storm on the night of January 24-25 produced brilliant aurora at high latitudes as seen in this image from Sweden.
Image Courtesy of Peter Rosén.
The coronal mass ejection CME collided with Earth's magnetic field a little after 10 AM ET on January 24, 2012. The influx of particles from the CME amplified the solar radiation storm such that it is now considered the largest since October 2003. NOAA's Space Weather Prediction Center has categorized it as a "strong" -- or S3 (with S5 being the highest) – storm. Solar radiation storms can affect satellite operations and short wave radio propagation, but cannot harm humans on Earth. Auroras may well be visible tonight at higher latitudes such as Michigan and Maine in the U.S., and perhaps even lower.
Solar Dynamics Observatory captured the flare, shown here in teal as that is the color typically used to show light in the 131 Angstrom wavelength, a wavelength in which it is easy to view solar flares. The flare began at 10:38 PM ET on Jan. 22, peaked at 10:59 PM and ended at 11:34 PM.
Credit: NASA/SDO/AIA

The Solar Heliospheric Observatory captured the coronal mass ejection (CME) in this video (which shows the sun's activity from January 19 to January 23). The end of the movie shows the interference caused by the onslaught of fast, energetic solar particles emitted from the sun.
Credit: SOHO/ESA & NASA
How many Hollywood actors and actresses you know of that have Russian roots? In fact, they are more than you think.
Leonardo DiCaprio
Leonardo DiCaprio's grandmother moved from the USSR to Germany together with her parents after the revolution. There, she got married and her daughter moved to the USA to give birth to the world famous actor
Steven Spielberg
Both grandfathers of Steven Spielberg are from Russia. And his sister's husband is a distant relative of Boris Pasternak, a Russian poet, novelist, and literary translator.
Sylvester Stallone
It is unlikely that a shy Jewish girl Rosa Robinovich from Odessa ever thought that her great grandson would become a world famous movie actor Sylvester Stallone.
David Duchovny
David Duchovny's father is a Russian Jew. His name was Amram Duckovny because he'd changed his last name to adjust it to American pronunciation. David, however, changed it back
Nicole Scherzinger
Nicole Scherzinger's mother is half-Russian and half-Hawaiian.
Natalie Portman
Natalie Portman's parents moved to Jerusalem from Kishinev, Moldova.
Gwyneth Paltrow
Ancestors of Gwyneth Paltrow used to live in Minsk, Belarus.
Milla Jovovich
Milla Jovovich was born in Kiev, Ukraine. So first five years of her life she spent in the Soviet Union.
Harrison Ford
Harrison Ford's grandmother left Minsk in 1907. Now the actor is searching for his relatives who might live in Russia and post-Soviet republics.
Whoopi Goldberg
Whoopi Goldberg's grandmother was born in Odessa, Ukraine.
Eight years after landing on Mars for what was planned as a three-month mission, NASA's enduring Mars Exploration Rover Opportunity is working on what essentially became a new mission five months ago.
Opportunity reached a multi-year driving destination, Endeavour Crater, in August 2011. At Endeavour's rim, it has gained access to geological deposits from an earlier period of Martian history than anything it examined during its first seven years. It also has begun an investigation of the planet's deep interior that takes advantage of staying in one place for the Martian winter.
NASA's Opportunity rover hits 8-year mark on Mars.


Opportunity landed in Eagle Crater on Mars on Jan. 25, 2004, Universal Time and EST (Jan. 24, PST), three weeks after its rover twin, Spirit, landed halfway around the planet. In backyard-size Eagle Crater, Opportunity found evidence of an ancient wet environment. The mission met all its goals within the originally planned span of three months. During most of the next four years, it explored successively larger and deeper craters, adding evidence about wet and dry periods from the same era as the Eagle Crater deposits.

In mid-2008, researchers drove Opportunity out of Victoria Crater, half a mile (800 meters) in diameter, and set course for Endeavour Crater, 14 miles (22 kilometers) in diameter.

"Endeavour is a window further into Mars' past," said Mars Exploration Rover Program Manager John Callas, of NASA's Jet Propulsion Laboratory, Pasadena, Calif.

The trek took three years. In a push to finish it, Opportunity drove farther during its eighth year on Mars -- 4.8 miles (7.7 kilometers) -- than in any prior year, bringing its total driving distance to 21.4 miles (34.4 kilometers).
This mosaic of images taken in mid-January 2012 shows the windswept vista northward (left) to northeastward (right) from the location where NASA's Mars Exploration Rover Opportunity is spending its fifth Martian winter, an outcrop informally named "Greeley Haven."
Image credit: NASA/JPL-Caltech/Cornell/Arizona State Univ

The "Cape York" segment of Endeavour's rim, where Opportunity has been working since August 2011, has already validated the choice of Endeavour as a long-term goal. "It's like starting a new mission, and we hit pay dirt right out of the gate," Callas said.

The first outcrop that Opportunity examined on Cape York differs from any the rover had seen previously. Its high zinc content suggests effects of water. Weeks later, at the edge of Cape York, a bright mineral vein identified as hydrated calcium sulfate provided what the mission's principal investigator, Steve Squyres of Cornell University, Ithaca, N.Y., calls "the clearest evidence for liquid water on Mars that we have found in our eight years on the planet."

Mars years last nearly twice as long as Earth years. Entering its ninth Earth year on Mars, Opportunity is also heading into its fifth Martian winter. Its solar panels have accumulated so much dust since Martian winds last cleaned them -- more than in previous winters -- the rover needs to stay on a sun-facing slope to have enough energy to keep active through the winter.

The rover team has not had to use this strategy with Opportunity in past winters, though it did so with Spirit, farther from the equator, for the three Martian winters that Spirit survived. By the beginning of the rovers' fourth Martian winter, drive motors in two of Spirit's six wheels had ceased working, long past their design lifespan. The impaired mobility kept the rover from maneuvering to an energy-favorable slope. Spirit stopped communicating in March 2010.

All six of Opportunity's wheels are still useful for driving, but the rover will stay on an outcrop called "Greeley Haven" until mid-2012 to take advantage of the outcrop's favorable slope and targets of scientific interest during the Martian winter. After the winter, or earlier if wind cleans dust off the solar panels, researchers plan to drive Opportunity in search of clay minerals that a Mars orbiter's observations indicate lie on Endeavour's rim.
Opportunity's Panoramic Camera (Pancam) took the component images as part of full-circle view being assembled from Greeley Haven.
Image credit: NASA/JPL-Caltech/Cornell/Arizona State Univ.
"The top priority at Greeley Haven is the radio-science campaign to provide information about Mars' interior," said JPL's Diana Blaney, deputy project scientist for the mission. This study uses weeks of tracking radio signals from the stationary rover to measure wobble in the planet's rotation. The amount of wobble is an indicator of whether the core of the planet is molten, similar to the way spinning an egg can be used to determine whether it is raw or hard-boiled.
Other research at Greeley Haven includes long-term data gathering to investigate mineral ingredients of the outcrop with spectrometers on Opportunity's arm, and repeated observations to monitor wind-caused changes at various scales.
The Moessbauer spectrometer, which identifies iron-containing minerals, uses radiation from cobalt-57 in the instrument to elicit a response from molecules in the rock. The half-life of cobalt-57 is only about nine months, so this source has diminished greatly. A measurement that could have been made in less than an hour during the rover's first year now requires weeks of holding the spectrometer on the target.
Observations for the campaign to monitor wind-caused changes range in scale from dunes in the distance to individual grains seen with the rover's microscopic imager. "Wind is the most active process on Mars today," Blaney said. "It is harder to watch for changes when the rover is driving every day. We are taking advantage of staying at one place for a while."
NASA's Jet Propulsion Laboratory, a division of the California Institute of Technology in Pasadena, manages the Mars Exploration Rover Project for the NASA Science Mission Directorate, Washington. More information about Opportunity is online at:
http://zpag.es/9czN
and
http://marsrovers.jpl.nasa.gov
.
Contacts and sources:
Guy Webster
Jet Propulsion Laboratory
, Pasadena, Calif.